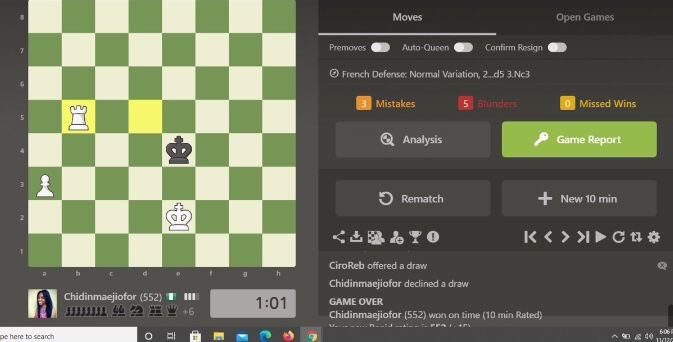 I have been to interviews but there is this one 'so different'. He had thrown a number of questions at me that i'm sure I gave diligent responses to but this one question broke me- Do you play Chess? 'No sir!' I replied. 'How then can you fit firmly into this role?' I was mute. I had no little idea on how the chess game works. 'Alright! Chidinma, we will get back to you' he said calmly and shook my hand. On my way home, a lot swayed through my mind… What does a game have to do with the role I applied for? How in the world are they related? How? How?? How??? I pondered repeatedly. So, I let the whole drama of the interview slip away because I had no apparent answers to my inherent questions. Weeks rolled, time ticked, no call and no email from the employer. In the morning of the third week (post interview), I had wanted to track the progress of the recruitment process, then I placed a call to the organization. A young lady's voice echoed over the phone with a warm greeting. I introduced myself to her and she responded with a mild tone 'someone has been called up for the role you applied for'. On hearing this, I melted! I thanked her and ended the call. It became imminent that I had lost the opportunity owing to my inability to play Chess. This drove me to researching on it. I was particularly interested in knowing why and how it made me lose such an opportunity. I remember reading some electronic books. I narrowed my search to the history, the moves and it's practical applications to real life situations. I had no physical human to play with, my opponents were the programmed computer team. I can't even recall the countless times these robots defeated me. It dimmed my zeal and I stopped playing it. Even though, I understood the rules of the game, I wasn't winning in any way.
Some months after, my aunt's cousin moved into her house for a short stay (we lived in the neighbouring building). In our few conversations, I had shared one of the many games I looked forward to being a genius in- I wished I could be a good Chess Player. Sooner, I realized he is an ardent Chess player. He became my opponent, he taught me a lot about the game and gave me a book to guide me. Today, I have recorded a number of fantastic wins!These are a few of the reasons why you should learn how to play chess:
to boost your intellectual ability.
to be ahead of a whole lot of people.
to predict future occurrence and devise means of approaching them.
to improve your strategic abilities in real scenarios.
to get you in places you never imagined.
I just want to say one more thing! Can you predict it? You can only do so, if you know how to play the game of Chess. Many thanks to 'Ifeanyinchukwu Richard Ikwugbado'. You deserve some accolades!
Cheers to all Chess Lovers…